Panel Tilt – This will populate by default when selecting "Commercial" as project type and is commonly used when the project site is flat.
Roof Tilt –This will populate by default when a project type is "Residential". This can be set in degrees as well as in inches (rise/run).
Row Spacing Factor – For solar panel arrays mounted on flat roofs or on the ground with multiple parallel rows, one row of modules can potentially shade the other behind it if the rows are too closely spaced. ENACT automatically calculates the distance between rows to avoid shading. Spacing is calculated using the array height multiplied by the spacing factor. Spacing factor can vary based on the latitude of the project site.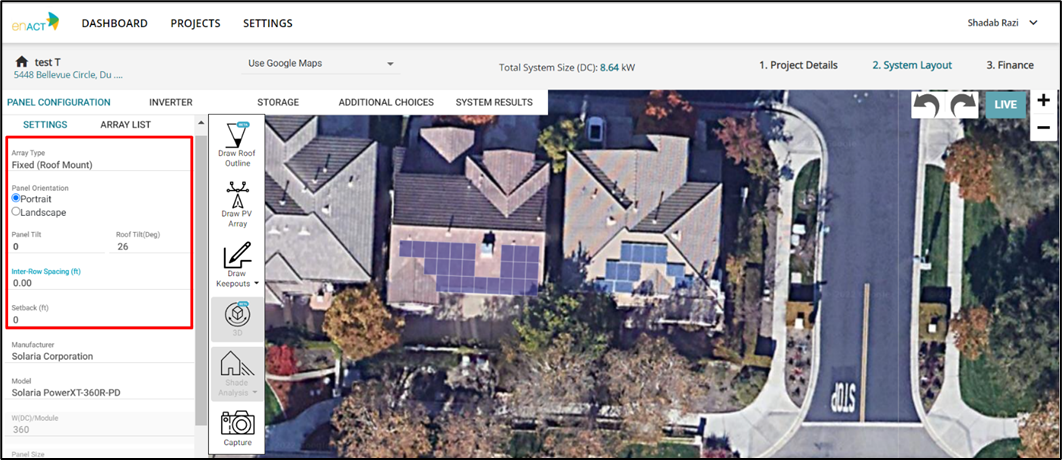 Array Type – ENACT allows for 6 options. These options are listed below and more information on these types can be found by going to PV Watts. ENACT utilizes the PV Watts calculator for solar generation estimates.
1. Fixed (Open Rack)
2. Fixed (Roof Mount)
3. Single Axis Tracking
4. Single Axis Back Tracking
5. Dual Axis Tracking
Panel Size - 60, 72, 96 cells – Once you select the manufacturer name and model of module it will automatically populate.