Yes. If the end customer's rate schedule is TOU based, ENACT takes the corresponding rate components to model the electricity bill. The TOU rate components considered are – Fixed Charges, Minimum Bill, TOU energy charges with seasonal variation, connected demand charges and major taxes.
Currently, ENACT does not model TOU demand charges. We also do not support rate schedules having both TOU and tiered charges.
Example of a TOU Energy Charge Matrix -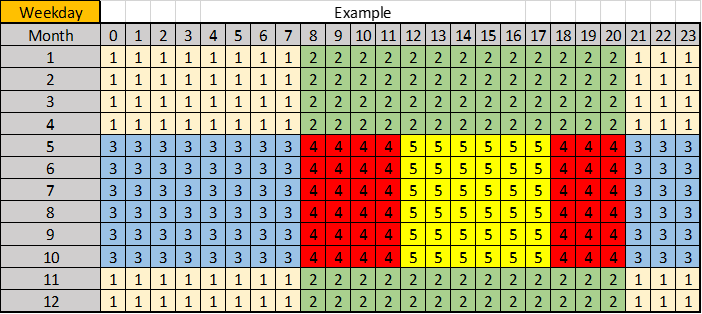 Each number (1, 2, 3, 4, 5) in the above matrix represents a corresponding rate value (e.g., 1 represents .32 $/kWh). The above matrix captures 24 hours a typical day over different months of the year. Therefore, both daily and seasonal variations are factored into the TOU bill estimation.